The Adventures Of Tintin [2011]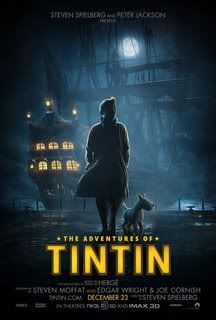 Movie Title:
The Adventures Of Tintin (Dir.: Steven Spielberg)
Ten Word Summary:
Adventure, Intrigue, Mystery, Animation, converge in this cute little movie.
Rank:
Very beautiful to look at and enjoy.
Quotable?:
Not really.
Good For How Many Viewings?:
Two
Watch It For:
The superbly done animation and story.
Bonus!:
Simon Pegg & Nick Frost as themselves, sort of..
Recommend?:
Yes.